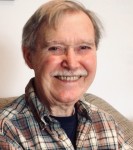 December 7, 1924
-
March 1, 2020
Born in Hoboken, New Jersey
Resided in

Bloomfield Township, Michigan
Obituary
James Patrick O'Donnell, the son of a New Jersey longshoreman who traveled the world as an executive for the General Motors Corp., died on Sunday, March 1, 2020. He was 95, and lived in Bloomfield Township, Michigan.

Mr. O'Donnell was born on Dec. 7, 1924, in Hoboken, New Jersey, to William and Elizabeth Hynes O'Donnell. His father worked on the docks along the Hudson River in Hoboken and Weehawken, New Jersey.

Mr. O'Donnell attended Weehawken High School, and while a student played soccer for a German-American team in town. After graduating in 1942, Mr. O'Donnell started his first job at a General Motors warehouse, assembling wooden crates around cars for export.

He served in the U.S. Navy during World War II, from 1943 until 1946, as a yeoman second class. He was based in the United Kingdom, where he provided clerical support for PT Boat Squadron 35, transcribing accounts of combat from the sailors on the boats.

After the war, he attended St. Peter's College in Jersey City, New Jersey, on the G.I. Bill for five years, studying accounting as a night student. He graduated in 1953.

Shortly afterward, he met his future wife, Mary King, at a dance sponsored by General Motors. They were married on April 16,1955, in Brooklyn, New York.

He spent his entire career in sales with the General Motors Overseas Corp. He was assigned to its office in Singapore in 1958, transferred to Beirut, Lebanon, in 1967 and was evacuated with his family from Beirut during the Civil War there in 1976. He worked in London briefly before moving to Athens, Greece, as the zone manager for the Middle East. He returned to the United States in 1977, first to New York City and then to Detroit, Michigan.

During his 48-year career, he traveled widely, from Indonesia, Vietnam, Japan and Korea, to India, Turkey and throughout the Middle East. He entertained his children with stories of visiting the Khyber Pass in northwest Pakistan, traveling by boat down the Saigon River in Vietnam, being presented with a sheep's eye as the guest of honor at a banquet in Saudi Arabia and bringing home a meteorite from the Empty Quarter in the Saudi desert.

He served on the boards of education for the American community schools his children attended in Singapore and Beirut.

He retired from General Motors in 1990.

In his retirement, he gardened, fed birds from his many bird feeders, some handmade, followed the adventures of his children and grandchildren on Facebook, researched his family history with the help of his niece, Eileen Kelly, and his daughter-in-law Terri O'Donnell, and loved his ice cream. He took great joy in life.

He is survived by his wife, Mary; his children, Noreen O'Donnell of Brooklyn; Brian O'Donnell and his wife, Terri, of Simsbury, Connecticut; Christine Perret and her husband, Dominique, of Brooklyn; and Mark O'Donnell and his wife, Barbara, of Birmingham, Michigan; his six grandchildren, Brendan O'Donnell, Emmett O'Donnell, Molly O'Donnell, Connor O'Donnell, Liam O'Donnell and Aidan Perret, and his step-granddaughter, Caitlin Sullivan.

Also surviving are his sister, Margaret Kelly of Weehawken and his brother, Thomas O'Donnell and his wife, Margie, of Parsippany, New Jersey. His sisters, Helen Sneyers, Grace Netzke, Patricia Sullivan, and his brothers, Dr. William O'Donnell and John O'Donnell, died before him.

Services will be held privately.
Services
Funeral Home
A.J. Desmond & Sons (Vasu, Rodgers & Connell Chapel)
32515 Woodward Ave (btwn 13-14 Mile)
Royal Oak
,
MI
US
48073
2021-04-12T