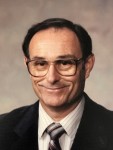 January 4, 1935
-
March 2, 2020
Resided in

Michigan
Obituary
RICHARD T. "DICK" NASH, lifelong resident of Royal Oak, MI, passed away March 2, 2020, age 85.

Dick Nash—Teacher & Coach
January 4, 1935 - March 2, 2020

Dick Nash, treasured husband, father, grandfather, and great-grandfather, teacher, coach, and mentor, who was born on January 4, 1935, died Monday of Alzheimer's disease, which stole his mind but could never extinguish his spirit.

The New York Times columnist, David Brooks, famously observed:
" … there [are] two sets of virtues, the résumé virtues and the eulogy virtues. The résumé virtues are the skills you bring to the marketplace. The eulogy virtues are the ones that are talked about at your funeral — whether you were kind, brave, honest or faithful. Were you capable of deep love?"

"Coach" Nash had both of these kinds of virtues in abundance.

Dick grew up in Lathrup Village but attended Royal Oak public schools from kindergarten through graduation from high school. It was far from certain that Dick would even have the chance to prove himself on the field. Dick's mother, Virginia, had once seen someone die on the football field and swore that no son of hers would ever play football. So Dick did what he had to do—forging his mother's signature to get on the team. His secret would have been safe—but soon, his name began to appear in the sports section of the newspapers. It was at this point that his mother threatened to cut Dick's sports career—and his life—short. But Dick's father, Harold, was able to persuade Virginia to stand down and let the boy continue playing.

And play he did.

As a fullback at Royal Oak High School, a sportswriter declared that he was "one of the school's all-time grid greats." He won the league scoring championship and was All-State in football. He and teammate Jack Drawbaugh were known as the "Twin Terrors." The local newspaper put it best: "Two of the finest back[s] ever developed at Royal Oak—will long be remembered."

But baseball was his real love. He told a reporter once, "Baseball is not as rough as football, and there's more real action in it." Dick won top honors in baseball as well as a pitcher and outfielder.

After graduation, Dick enrolled at Albion College. On the football field, he led the MIAA in rushing and was All-MIAA, Small-College All-State, and Methodist College All American. On the baseball diamond, he was scouted by the pros. He earned a degree in Economics and returned home to Royal Oak.

Dick soon found work in accounting for General Motors, but he realized that despite the financial rewards accounting could provide, it could not offer the satisfaction and significance he yearned for. Unsure of what to do next, his high school football coach encouraged him to consider teaching and coaching and put in a good word with the administration. Dick enrolled at Wayne State University, ultimately earning a Master's Degree, and he began a career as a teacher and coach in the Royal Oak School System that would span 36 years coaching a total of 108 different teams.

Dick coached football, basketball, and baseball at Mary Lyons Junior High School then moved to Kimball High School, where his fame as a coach was established. Dick coached men's football, basketball, and baseball, and was head golf coach. But he achieved his greatest success not only coaching women's volleyball and softball but building these programs into state powerhouses and perennial state contenders.

In 22 years of coaching volleyball, Nash's teams compiled a record of 471 wins and 216 losses. They captured six conference titles and 5 MHSAA district titles. His softball teams won 194 games to 111 losses, as well as two league titles and two district titles. In 13 years of coaching golf, his team won 101 matches to 69 losses.

He was honored as the Oakland County Softball Coach of the Year twice and the Daily Tribune Coach of the Year as well in both softball and volleyball. In 1991, he was inducted into the Kimball Coaches Hall of Fame and the Michigan Coaches Hall of Fame in 2001.

But there was more to his career in Royal Oak than coaching excellence. Dick taught history and social studies at Mary Lyon and Kimball. Just as he coached teams on the field, he was part of a team of teachers who shared classroom responsibilities at Mary Lyon. This team, driven to provide practical hands-on knowledge, didn't just teach about the stock market, they had their classes form "companies," come up with revenue earning ideas, sell company "stock" to generate seed money to get up and running, and then the investors would be paid back for their investment—if there was a profit. The team didn't just teach about cities; they had the students form cities and manage the various functions. It was this kind of creative thinking—and teaching—that was the regular subject of media attention.

When Dick retired, it was impossible to go anywhere in the area without a former student greeting "Mr. Nash."

But all of these are, as Brooks noted, résumé virtues. And as impressive as they are, they pale in comparison Dick's eulogy virtues. Virtues that he also coached and modeled, showing more than telling what it meant to be a servant leader and to live out loud his quiet Christian faith.

And it is because of those eulogy virtues that Dick is mourned by his friends and family.

To say that Dick was devoted husband is like saying that the Lake Superior is a large body of water. Dick began "going" with Joyce Jansen in junior high school, and they were inseparable for the next seven decades. They married on August 18, 1956. For many years, Dick, the All-American football player, lived in a house he painted pink because that's the way Joyce wanted it.

Joyce kept everything going on the home front while Dick taught during the day, coached in the afternoon, graded papers at night, officiated and umpired on the weekends, and taught camps and clinics in the summers. Even as Dick was in the final stages of Alzheimer's, his one remaining thought was to get back to Joyce, make sure she was taking her medicine, that her meals were prepared, and that someone was putting three bags of sugar in her iced tea.

Dick and Joyce had three children, Rick, Robin, and Ross. The dad they knew was always there for them, always in their corner, always on their side, and there for events large and small—even if that meant getting on a plane to do so. After Dick retired, he was always in motion, running errands, transporting and babysitting grandchildren, fixing things at their houses. For Coach, love meant doing. He may not have taught his kids how to spike or do a suicide squeeze, but he showed them about love, loyalty, hard work, self-sacrifice and faith. As far as Dick's children are concerned, there was no better coach of the things that mattered most.

Dick was a tough guy—a man's man. That is until he had grandchildren.

His grandchildren, Alexandra, Kristina, Mary, David, Trinity, and Sarah, transmogrified him from Type-A disciplinarian into a softie would could—and did—play hide-and-seek, tag, and act in impromptu theatrical presentations by the hour. Grandpa showed us that love was spelled, "T-I-M-E."

Dad thrived being around people. He loved meeting the guys at McDonald's at zero dark thirty to drink coffee and trade insults. He loved being of the usher team at Kensington Church, greeting regulars and visitors, and enjoying the fellowship of the usher team in golf and Bible study.

Dick's authentic Christian faith was at the center of who he was. He was a doer, not a preacher. St. Francis of Assisi could have been talking about Dick when he said, "Preach the Gospel at all times. When necessary, use words." Dick wasn't a saint. He was a fierce competitor with a strong temper and a lead foot, but he was a man of faith. And that's why, as we remember his life and faith, we know that the Savior will say to him, "Well done, good and faithful servant. You have been faithful and trustworthy over a little, I will put you in charge of many things; share in the joy of your master" (Matthew 25:23).

Beloved husband of Joyce since August 18, 1956. Loving father of Richard M. "Rick" Nash (Dee), Robin Nichols (Dan), and Ross Nash (Twannette). Dear grandfather of Alexandra, Kristina, Mary, David, Trinity, and Sarah. Great-grandfather of Harper.

Dick "Coach" was an award-winning teacher who dedicated years to coaching football, baseball, basketball, softball, volleyball, and golf to the students of Kimball High School in Royal Oak. He ended his career by winning the State of Michigan Coach's Hall of Fame award in 2001. Dick was also a member of Kensington Community Church in Troy where he volunteered as an usher and built props for the church productions. He will be greatly missed by all who knew him.

Family will receive friends Friday, March 6, 2020 from 1-8pm at A.J. Desmond & Sons (Vasu, Rodgers & Connell Chapel), 32515 Woodward Ave. (btwn 13-14 Mile), (248) 549-0500.

Funeral Service Saturday, March 7, 2020, 11am at the funeral home.
Services
Visitation
A. J. Desmond & Sons (Vasu, Rodgers & Connell Chapel)
32515 Woodward Ave
Royal Oak
,
MI
US
48073
Service
A. J. Desmond & Sons (Vasu, Rodgers & Connell Chapel)
32515 Woodward Ave
Royal Oak
,
MI
US
48073
Visitation begins at 10:00 AM
- Show more -